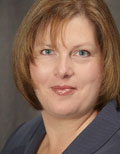 TAMMY BEYREIS
PRESIDENT & PRINCIPAL ARCHITECT
• Licensed Architect, State of Wisconsin
•
Bachelor of Architectural Studies degree with honors
from the University of Wisconsin-Milwaukee, including a year abroad at University of Canterbury – Kent
As a licensed architect with over 15 years of experience, I've built a career combining my knowledge of business with architectural design expertise.
The result? Spaces driven by client needs that balance aesthetics, function, technology and budget.
At Architectural Environments Studio, we're not about cookie cutter solutions. We take an innovative approach to every project, blending the art and science of architecture.
As an architect, I visualize a project in context to its environment, while focusing on how the solution will highlight and support the client's corporate vision and overall brand.
Over the years I've worked in and with large and small architecture firms, where I designed projects of varying scopes and sizes. In starting Architectural Environments Studio in 2001, I've found even greater fulfillment in working with clients one-on-one and sharing my vision, experience and focus.
I'll use my extensive experience ranging from office renovations to complete Americans Disabilities Act (ADA) assessments and overhauls to help complete your project on time and on budget.

Contact me today to discuss your specific project and needs.


" This Architect is down to earth and very flexible. She actually listens and works with you. Her work is timely and on point."

— Richard C.